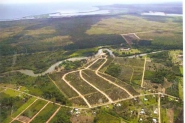 Property #149
Introducing Sweet Sittee River Estates, located on the banks of the Sittee River only a few minutes from the Caribbean Coast of Belize.
Acreage lots on and off the river of this development have it all, paved roads carved into an active citrus orchard, city water, electricity and phone service. Sweet Sittee River Estates also offers a natural harbor complete with a loading pier on the peninsular point. With the planned two story gazebo, complimenting the natural tropical setting making the peninsula a perfect park area.
Imagine that your purchase of these beautiful lots will allow you to land your boat and enjoy freshwater fishing on the beautiful Sittee River or head out to Sea for an afternoon of World Class Saltwater fishing. With the second largest barrier reef in the world only minutes off shore, you can enjoy some of the best snorkeling and diving in the world as well. Considering the thousands of acres of wildlife preserves in the area and the best beaches in all of Belize, S.S.R.E.is definitely a bargain for either the retiree or snow bird looking forward to an affordable second home.
All lots have access to the river and the sea through a Community Marina. This development lies on the richest soil in Belize, all lots having existing fruit producing citrus on them.
Lot House packages available. Owner financing available, contract for deed interest only. Contact us for a price list and avalabiity.
City/Town/Village: Sittee River Village District: Stann Creek Price: $18,000 Availability Status: Owner Financing Property Tax : Call For Price Additional Information
Community Features
Boat Taxi
Boating
Gas Station
Hotels
Marina
Municipal Power
Municipal Water
Paved Roads
Post Office
Public Transportation
Spa/Jacuzzi
Taxi