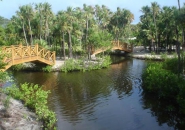 Property #194
This is a master planned community, spread over 224 acres, along nine thousand feet of beach and lagoon front on the Placencia Peninsula. It consists of 110 single family home sites, a twenty acre boutique resort site with planned marina, and a 12 acre parcel set aside for condominium development.
The development has all the comforts of home, including underground power, cable TV, security, and their own water treatment and supply system. The entrance to the development is manned 24 hours per day, offering you a secure and private environment.
What this development is about is a passion to take a fabulous natural site and create an environment that is simultaneously breathtaking…yet simple; luxuriant, comfortably livable; secluded…and socially active.
The designers of this project have spared no expense in creating unique residential building sites, while carefully preserving all that nature given to us. The spectacular, park like setting, offers more than one mile of private beach on the Caribbean Sea and almost 2 miles of total frontage on the beautiful Placencia Lagoon.
Most building sites are waterfront lots or adjacent to a water-front lot. Buffer zones of native trees and flowering tropical plants provide habitat for a myriad of local and migratory birds. This complex of beachfront, lagoons, islands and canals offers an incredible variety of individual home site options.
Wake up to the morning's sunrise on the beautiful blue waters of the Caribbean. Belize's soft wave action entices you to swim or snorkel, just steps from your hammock, as it gently swings from the palm trees in your front yard.
This development offers boundless recreational opportunities. With 124 miles of protected coastline along the Caribbean Sea, hundreds of off shore cayes, and the Belize Barrier Reef, the waters of Belize are a unique treasure. Canoe or kayak through the lagoons inside the development or venture out into the sea.
For the outdoor enthusiast and adventurist, Belize presents unlimited opportunities to participate in a wide range of sightseeing, cultural, and outdoor activities. Build your dream home on the lagoon or on the beach and put yourself into the heart of one of Mother Nature's best kept secrets.
The developers are resolved to maintain low density and the highest level of peace and tranquility, while providing all the amenities befitting of a true tropical paradise community. Covenants are in place ensuring this scenic community remains pristine and liveable.
Prices begin at US$109K for a lagoon lot.
We believe this is the best full concept community development in Belize. To learn more about this stunning development, please call or write us today.
Address: Maya Beach City/Town/Village: Placencia Peninsula Neighborhood: Coco Plum Development District: Stann Creek Price: $109,000 Availability Status: Active Property Tax : Call For Price Additional Information
Community Features
Airport
Association Fee
Banks
Boat Taxi
Boating
Bowling
Controlled Access
Hotels
Marina
Municipal Power
Municipal Water
Paved Roads
Playground/Park
Post Office
Public Transportation
Taxi
Tennis Courts